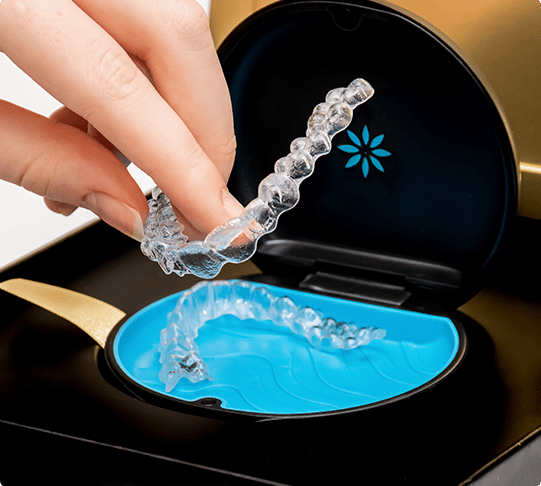 Invisalign in London – Special Offers on Orthodontic Braces
With years of practical and academic experience in various aspects of the dental practice, our team are equipped to handle any dental health emergency you may face, or shape your smile into its ideal form through corrective and cosmetic dentistry combination.
Smile Clinic offers a variety of stand-alone or combo dental treatments and services as part of our smile therapy package. With a customized combination of compatible dental procedures, we can completely transform how you smile, and how it looks in the mirror.
An introduction to Invisalign
Invisalign is one of the varieties of discreet or invisible orthodontic aligners that prove effective in straightening the teeth with a series of clear or transparent aligners. Fixed brackets and metal wires were the only options to achieve straight teeth for so many years. In striking contrast to the past, now Invisalign exists as an option to gradually shift the teeth to their actual position using a set of removable aligners. These modern braces are completely transparent and thus remain virtually invisible inside your mouth. Your friends and colleagues can hardly notice the braces on your teeth and can barely notice you are undergoing teeth straightening treatment.
These virtually invisible braces are considered to be the best alternative for conventional metal braces that were not removable and remained fixed in the mouth. These modern braces can be easily removed whenever needed and can be worn back again without a fuss. Thus you can go about taking proper care of your mouth while sticking to a normal diet throughout your treatment.
Various types of Invisalign treatment in London
For Invisalign in London treatment, there are a few options out there including the following
Invisalign Comprehensive or Full
Comprehensive or Full Invisalign is suitable for those who require making complicated corrections to their teeth or shifting all their teeth. This treatment is pretty common at our Smile Clinic London practice with a huge success rate. We possess the necessary skills and expertise to handle such cases that involve moderate to critical levels of complexity.
Each aligner must be in use for a minimum of 1 to 2 weeks before you can move on to the next one in your given series. This is important to ensure your teeth undergo a gradual movement before the desired result is achieved. Considering the complexity involved you may get anywhere between 15 to 30 aligners for an Invisalign Full treatment. Patients undergoing Invisalign Complex get more than 30 aligners. The average duration of the treatment lies between 12 and 18 months. But for complicated cases that may stretch anywhere between 24 and 36 months.
Invisalign Lite
This version of Invisalign is suitable for patients who require a little or very moderate correction of their teeth. This treatment is recommended for cases that are not complex, although the treatment is grossly the same as is for other Invisalign patients. But it requires a lesser number of braces to shift the teeth to their desired or ideal position. Since the procedure involves lesser teeth movement, you get fewer braces. On average, the treatment lasts between 4 and 8 months.
Invisalign i7 or Invisalign Express
This is the latest version of Invisalign treatment and is mostly meant for patients who suffer from slight overcrowding, minor tooth correction or relapsed misalignment from orthodontic procedures conducted earlier. The procedure is efficient enough to deliver fast results for cases that involve complexity. As the name implies i7 uses about 7 aligners to bring your teeth to the perfect alignment. The treatment lasts around 4 months, on average.
Various dental issues that Invisalign can cure
Crowded Teeth
This condition occurs when the teeth are crooked and cross over one another in absence of sufficient space in the jaw arch. When the problem of crowded teeth is left ignored and untreated, proper cleaning of the teeth becomes difficult. As a result, tart build-up and lead to stains. With time, the problem aggravates to plaque, gum disease and teeth decay.
Gapped Teeth
Factors like unusual growth of the jawbone, lack of adjacent teeth are known to lead to the problem of gapped teeth. In this condition, unwanted gaps are measured in between the teeth. Gapped teeth not only cause discomfort but can also trigger periodontal disease down the timeline. The earlier these problems are sorted out the better.
Overbite
This is another common orthodontic problem related to teeth misalignment. It occurs when the upper jaw along with the teeth stick out over the teeth in the lower jaw. The problem results in fast wearing out of the teeth leading to more serious conditions like gum problems and TMJ or temporomandibular joint disorder. The worn-out teeth become more prone to getting chipped or broken.
Underbite
This problem results from either a larger lower jaw or a difference in jawbone formation and growth of teeth. The condition not only creates biting problems, in an individual but also aesthetic or cosmetic issues. The problem prevents the proper functioning of the teeth and should not be ignored or left untreated.
Open Bite
For some people, the teeth in the upper jaw do not smoothly meet with those in the lower jaw. Genetics plays a major role in creating this problem, say experienced Invisalign providers in London. Other than genetics the bad habit of thumb sucking is also known to contribute generously to this problem.
Crossbite
In easier words, this is a severe case of teeth misalignment where the teeth in the upper and the lower jaw cross over each other to make a reverse bite position. The problem makes both biting and chewing difficult. Wear out of the teeth is common in this condition. Moreover, as the condition makes proper brushing practically impossible, plaque build-ups and periodontal infection are pretty common among crossbite patients.
Invisalign braces prove fit enough to correct all the issues mentioned above and much more.
Advantages that Invisalign braces offer
Invisalign is the most popular Invisible brace system across the world. The technology has been in use for the last 20 years and has helped over 8 million people around the globe to straighten their teeth.
Comfortable to Wear:

Invisalign aligners are completely free from metal wires and brackets that may irritate the mouth. Compared to traditional braces, these invisible aligners are more comfortable to wear. The absence of metals or wires also means you spend less time sitting in the chair while your orthodontist makes the necessary adjustments to your orthodontic appliances.

Allows You To Enjoy Your New Smile Faster:

Invisalign starts working straight away so that you can enjoy the benefits of an improved smile earlier than traditional braces. In most cases, these modern orthodontic teeth straightening procedure delivers the expected result within months and not years.

Virtually Invisible and Practically Untraceable in the Mouth:

Just as the name implies, Invisalign aligners remain virtually invisible inside the mouth. The clear aligners are practically untraceable from outside and thus no one gets the wind that you are straightening your teeth. Moreover, these transparent orthodontic trays are easily removable. Thus you do not have any diet restrictions and can eat and drink whatever you want while undergoing treatment.

Removable Aligners:

Invisalign aligners are easily removable. This allows you properly brush and floss the teeth to maintain sound oral hygiene. It is also easier to clean the aligners. As sound oral hygiene is maintained during the treatment, your teeth have much lesser chances of suffering from decalcification unlike that in traditional or fixed braces treatments.

Removable Aligners:

Invisalign aligners are easily removable. This allows you properly brush and floss the teeth to maintain sound oral hygiene. It is also easier to clean the aligners. As sound oral hygiene is maintained during the treatment, your teeth have much lesser chances of suffering from decalcification unlike that in traditional or fixed braces treatments.

Custom-made Aligners:

Ai Smile Clinic London our knowledgeable dentists will take a digital scan impression of your teeth to send it to the Invisalign Lab. These experts will make precisely customised aligners to enable you to a faster, effective, and safer treatment process.
The way the Invisalign braces work
The ground-breaking Invisalign technology straightens the teeth using a series of clear, customised aligners that are easily removable and remain virtually invisible. Invisalign braces exert calculative force to facilitate gentle and gradual movement of the teeth into the desired position. The procedure does not make use of fixed brackets and wires that remain distinctly visible in your mouth throughout your treatment phase.
The aligners apply pressure on specific teeth at different times. As a result, the teeth move gradually – a little at a time – into their desired or expected position. Each aligner is worn for one to two weeks before you move on with the next one in your given series. This changing of aligners continuous throughout the duration of the treatment till the alignment of your teeth is corrected and meets the final desired position.
It is relevant mentioning that cutting-edge Invisalign technology allows you to see your smile even before receiving your braces. This is made possible by the Invisalign Clincheck software that shows you beforehand how your teeth will position themselves and look like during various stages of the treatment. In other words, monitoring treatment progress is easier with Invisalign.
Our Invisalign dentist in London will keep reviewing your teeth movement during the entire course of the treatment. Thus you have to come for routine checkups at regular intervals. To achieve the best results you must wear the aligners anywhere between 20 and 22 hours a day. In other words, you can take out the aligners only when eating, brushing or flossing the teeth.
About the Invisalign® treatment procedure
Initial Consultation
Any Invisalign treatment starts with an initial consultation. It involves taking a quick and precise 3D digital scan of your overall mouth. The digital scanning is done using an advanced computer imaging technology called an iTero Element® scanner. The scan generates a digital model on a screen in which you will foresee how your teeth will appear at the end of the treatment. It also contributes to mapping out a unique treatment plan for you.
Starting to wear your aligners: Precisely customised clear aligners for your teeth prepared by Invisalign will be handed over to you. After you have received your consignment you have to attend your first fit appointment. This session lasts nearly 40 minutes the most of which you spend in the chair while the dentist smoothens out the teeth before you wear your first pair of clear transparent aligners. It is also in this first fit appointment that you will be given all other customised attachments that will facilitate your treatment.
Regular Dentist Check-ins
You have to wear each aligner for one to two weeks before moving on to the next one. This continues till the teeth sink into the correct position. Monthly reviews are carried out to measure your treatment progress. As a responsible Invisalign provider in London, it is our job to ensure everything related to your treatment is moving in the right direction. The time required for Invisalign teeth straightening varies from case to case depending on the level of complexity involved.
While your teeth gently and gradually keep moving into their correct alignment, all you have to do is keep wearing the virtually invisible aligners for stipulated hours every day. Meanwhile, you keep enjoying all your favourite foods and drinks and can also maintain optimum oral hygiene easily.
Post-treatment phase – wearing retainers
Once your teeth straightening treatment with Invisalign is over you will be given a set of carefully customised Vivera® retainers to prevent the teeth from relapsing. These retainers ensure your results last long securing value for your money. At Smile Clinic London, we also offer patients the option of fixed wire retainers. It involves attaching a wire to the back of the front teeth to prevent them from any kind of movement in future so that your brand new smile remains intact.
About Invisalign aftercare
Even after the treatment has ended successfully, you must keep wearing your retainers. The retainers are your only option to ensure the teeth do not sink back into their initial position. However, Invisalign aftercare is not just about wearing retainers. There are much more to it:
Importance of proper brushing and flossing every day:

Once your Invisalign treatment is completed, you must properly brush your teeth twice daily using fluoride toothpaste and a toothbrush with soft bristles. It is equally important to floss the teeth once a day, which you may replace by using an interdental brush. Do use a fluoride-based mouthwash in case your teeth are prone to cavities. Follow these standard aftercare routines related to oral hygiene for the rest of your life after successful completion of the treatment.

Visit us for routine checkups and professional teeth cleaning:

Thorough cleaning of the teeth at regular intervals by a trained and professional oral hygienist under the prescription of a dentist is an important aspect of every Invisalign aftercare routine. This is one of the most assured ways to remove plaque build-ups from your mouth before it can trigger gum disease.

Stick to an overall balanced diet:

A balanced diet helps you keep your teeth and the gums healthy and strong after successful teeth straightening treatment. Include green, crunchy, leafy vegetables and fresh fruits in your daily diet other than fresh dairy products that are low in fat content. Cut down on sweetened foods and fizzy drinks as much as you can to maintain overall healthy oral hygiene.

Do use a mouthguard while playing any contact sports:

Contact sports and even certain outdoor adventure activities make you prone to dental trauma. It is crucial to wear a mouthguard to protect your teeth and jaws from dental trauma. A mouthguard is an inexpensive yet most effective way to avoid any trauma or accidental injury to the mouth.
Cost for Invisalign Treatment
The cost of Invisalign treatment usually ranges between £1900 and £4500. The price varies depending on certain factors – like the level of complexity involved, the length of time needed for the treatment and other factors.
Special Invisalign Offer Up to
£1200

Off!

As one of the most sought after Invisalign providers in London, Smile Clinic London frequently launches special Invisalign offers from time to time. Currently, we have an offer that gets you up to £1000 off on Invisalign braces. It is only valid for a limited time. Come sharp and avail it before it is too late!
Invisalign i7 offer packages:
The normal price of £2599 is dropped down to £1900 for the series of seven-set aligners which is by any standard an excellent bargain.
Invisalign Lite offer packages:
Up to fourteen sets of Invisalign Lite aligners are offered for £2500. This Package comes with three sets of Invisalign Vivera retainer as well as a home teeth whitening set along with a two-year guarantee to protect against relapse. Excluding the offer, the package is priced at £3499.

Invisalign Full offer packages:
This Comprehensive Package is priced at £4499 but while on offer, it costs only £3500. The package includes 3 sets of Invisalign Vivera retainers, home teeth whitening kit, along with a two-year guarantee to protect you from relapse.